Aquafluor®
Dental Practise,
Prophlylaxis/Cleaning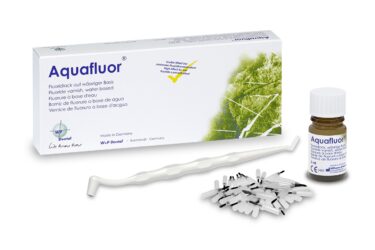 Aquafluor®
Set - 1 x 5 ml + 50 brushes + 1 brush holder
Aquafluor® is a clinically tested fluoride varnish based on AQUEOUS acrylic resin for fluoridation and treatment of hypersensitive necks of teeth. Aquafluor® dispersion dries in air and forms a film that releases fluoride when softened in saliva and continuously for up to 24 hours. Due to this behavior, even minimal amounts of fluoride are completely sufficient for optimal fluoridation. Once the varnish is completely soaked, fluoride release is complete. The varnish matrix then detaches from the enamel or dentin surface. Aquafluor® contains 0.15% pure fluoride.
Product Categories:
Dental Practise,
Prophlylaxis/Cleaning