P-Cem®
Dental Practise,
Temporary fixing/filling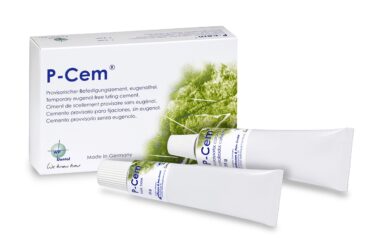 P-Cem®
1 x 25 g base, 1 x 25 g catalyst tubes
P-Cem® is a self-curing, eugenol-free, temporary luting cement containing calcium hydroxide and hydroxyapatite. The paste/paste system from the tube allows flexible dosing and quick mixing by hand. A thin layer is sufficient for secure cementation of the temporary restoration. The cured material allows secure temporary cementation, while remaining elastic and easy to remove. As P-Cem® is free of eugenol, it does not interfere with subsequent adhesive cementation and composite curing.
Product Categories:
Dental Practise,
Temporary fixing/filling